Top Dog-Friendly Parks Surrounding National Parks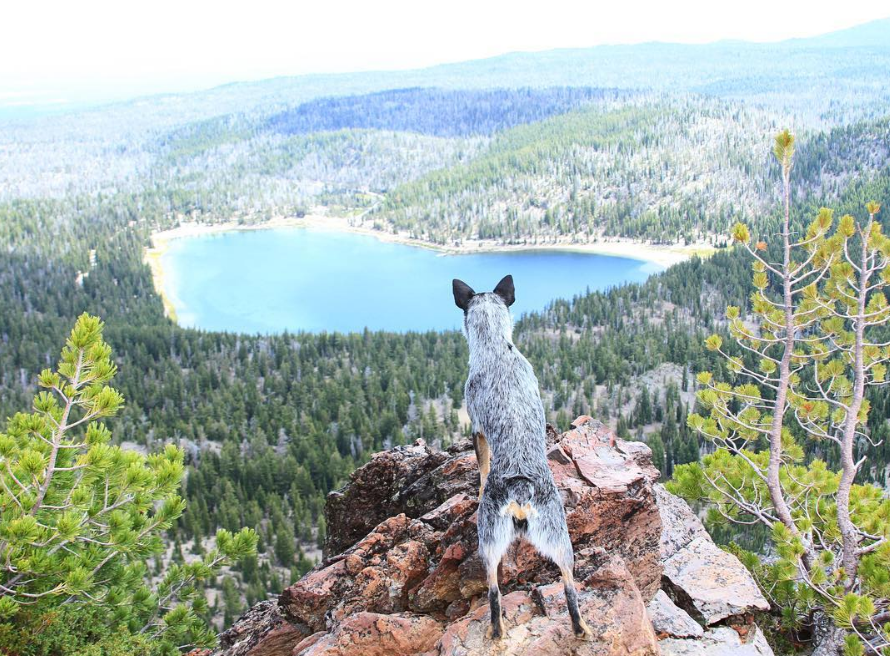 So, you LOVE to hike and camp with your best buddy, Fido? While the top visited national parks are gorgeous and should be on anyone's bucket list, they may disappoint as far as a destination for those who love to travel with their dogs! Turns out that national parks are pretty strict about allowing dogs in the backcountry. Who knew. But lucky for us, there are other options out there.
Why aren't National Parks dog-friendly?
Although it can be frustrating, dogs do present a danger to wildlife in the parks. We love dogs because of their giddy personality, which can consequently scare birds and other animals away from their nests, feeding grounds, and natural habitat. They also have a tendency to "leave their mark." (on every single tree, right?) Small animals may smell the presence of a dog and think that a large predator is nearby disrupting their natural patterns.
The restrictions are to protect us and our dogs. There are lots of sights to see and smells to smell, and some of these can harm your dog. A larger predator like a coyote or bear might just think your dog is their next meal. And your dog could lead the hungry bear straight to you!
Top National Parks (and the really cool places around them)
If your dream vacation includes camping and hiking in a national park with your dog, consider the great national forests that have less restrictions! We've put together a list of national forests and even some tips from a few of our favorite Camping With Dogs trailblazers. Check out some of the hidden gems as you map out your next adventure.
1. Great Smoky Mountains National Park
The Great Smoky Mountains tops the list as the most visited national park in the country! It's gorgeous! This national park does allow dogs in campgrounds, picnic areas, and along roads. They also allow dogs on two walking paths, the Gatlinburg Trail and the Oconaluftee River Trail. But if you want to blaze a trail with your pup, think about taking a trip to the national forests around The Great Smoky Mountains. Forests like Pisgah, Chattahoochee, Cherokee, or Daniel Boone National Forest are all dog-friendly.
Take it from a trailblazer: If you're looking for more pet friendly options outside of the Smokies, consider Grayson Highlands State Park in Virginia. Samantha and her dogs, Koa and Aspen, love to kayak, swim, stalk wildlife and be lazy! She says, "There are wild ponies roaming the grounds, unobstructed views of the rolling mountains and plenty of places to camp! We also love Lake Moomaw for it's water sports and miles of hiking."
2. Grand Canyon National Park
Pets are allowed in certain places, and you can kennel your dog if you want to go where dogs are not allowed. If you have dreams of going to the Grand Canyon with your pup, you might have to make some concessions! Pets ARE allowed in certain areas like the South Rim. Leashed pets are allowed above the rim, Mather Campground, Desert View Campground, Trailer Village and throughout the developed areas. If you'd like to hike where dogs are not allowed, they have a kennel that will keep an eye on (and feed) Fido!
But if you're looking for a few places where dogs are allowed, look at these amazing National Forests in Arizona. In between Flagstaff and Phoenix, you'll find Kaibab, Prescott, Apache-Sitgreaves, and Tonto National Forest.
Take it from a trailblazer: Kerri and her three dogs, Dante, Sheba and Goose, love to explore Lost Dutchman State Park, a 320-acre state park located near the Superstition Mountains in central Arizona. She says, "Spring time comes early in the desert so a few weeks before Spring the desert is blooming with wildflowers, blankets of yellow with purple and red color throughout. Also for hiking in the fall/winter you can't beat it with daytime temps being in the mid 60's and 70's."
3. Rocky Mountain National Park
Like most national parks, dogs are allowed in areas accessed by vehicles including campgrounds, picnic areas, and along roads. There are several national forests outside the park that are dog-friendly like Arapaho and Roosevelt National Forest. Estes Park also offers several trails that are dog-friendly ranging in distance from just a few miles to over nine miles! If you are looking for an off-leash option, Lily Mountain is a good spot. It's a relatively low elevation (1,006 ft.) and only 1.9 miles. If you go west of Rocky Mountain National Park, you'll find Indian Peaks Wilderness Area, which features an easy 4-mile loop around Monarch Lake that can be hiked year-round.
Take it from a trailblazer: "There are great things to all the seasons, although in the colder seasons the trails have less traffic which is nice," Alicia of West Coast Heeler Pack says about Devil's Lake in Oregon and East Sooke Park, in British Columbia, Canada. Her dogs, Kona and Cali, love to play hide and seek!
4. Yosemite National Park
There are a few hiking trails that allow dogs in Yosemite. Meadow Loop near Big Trees Lodge and Old Big Oak Flat Road between Hodgdon Meadow and Hazel Green Creek allow our pups. Campgrounds also allow dogs, except walk-in campgrounds. Like the Grand Canyon, a daytime only kennel is available May through September if you'd like to hike a trail that is not dog-friendly. Outside Yosemite, you'll find several amazing national forests like Sierra, Inyo, and Stanislaus National Forest to explore with your dog. We suggest that you also venture down to Angeles National Forest.
Take it from a trailblazer: Katherine and her dog Robin love to hike the trails there! According to Katherine, "The trails look new during every season. During the winter and spring, everything is lush and green, the skies are moody, and you can even find water in the stream beds. Summer and fall are snake season so we tread carefully, but it's the best time to catch sunsets because the glow lasts long enough to get back to the trailhead." She says Chilao Flat is hands down one of the best drive-up campsites and the best trail to catch the sunset is Sunset Ridge.
5. Yellowstone National Park
Known for its collection of geysers, Yellowstone covers almost 3,500 miles and is located in Wyoming, Montana, and Idaho. Pets are less welcome at Yellowstone, and are limited to in your car, within 100 feet of the road, at front country campgrounds, and parking lots. Take some time and explore Targhee, Custer and Shoshone National Forest for dog-friendly options. Another one to visit is Bridger-Teton National Forest. We recommend the 3-mile hike up to Goodwin Lake. There are plenty of pull off's to take pictures of the wildlife on the way to the trailhead!
Take it from a trailblazer: "We love camping because it offers endless amounts of fun from morning to night and it gives us a chance to explore new areas further from home and have amazing adventures with some of our best friends. There is something special about going to bed beneath the stars and waking up to the birds chirps that just can't be beat!" Leanne and her two heelers, Kyro and Kona, love to be outside! They live in Canada and love exploring Strathcona National Park on Vancouver Island.
6. Zion National Park
Zion National Park is known for its 2,000-foot sandstone cliffs. Whether you're climbing, canyoneering, hiking or camping, there's something for everyone to enjoy. While Zion is loads of fun, it's HOT in the summer months. Consider going in the spring and fall to avoid the heat and the crowds. And since you're in the neighborhood, check out Fishlake, Dixie, and Manti-La Sal National Forests. They will be more dog-friendly and are also neat to explore.
Take it from a trailblazer: Miranda and her Aussie Loki, visit Goblin Valley State Park in the off-season to experience more of the park with less people and less bugs! "We always find something fun to do in the variety of different landscapes from the parks we visit. In Goblin Valley, we'll wander through the hoodoo formations and find little hidden caves or climb to the top to watch the sunset. In mountain based parks, we like to find water to play in and hang our hammock in the trees to relax. Either way there are many ways to enjoy a park and tire your dog out for the night!"
7. Olympic National Park
The terrain in Olympic is amazing. Take a tour of Lake Quinalt, go paddle boarding, enjoy the hot mineral springs or go for a hike! One of the popular trails to consider where your leashed dog is allowed is the World's Largest Spruce Tree Trail, but it's only one-third mile long. Word on the street is that there are more dog-friendly options than you can find online. Miranda says, "There is a stretch of beaches on the coast in Olympic National Park that are dog friendly and quite empty during the off season. We've camped at Kalaloch beach campground which is right above the beach and is dog friendly if your dog is kept on a leash." For more dog-friendly options, try Olympic, Okanogan-Wenatchee, or Baker-Snoqualmie National Forests.
Take it from a trailblazer: Ruth and her three dogs, Frost, River and Fitzroy love North Cascades National Park! It's also in Washington but near the border of Canada. She says the trick is to find trails along the border of the National Park to enjoy the same breathtaking views and experiences without the red tape. About her favorite trails, "As you go along Highway 20, there are some popular hikes to high alpine lakes – Blue Lake, Maple Pass, and Cutthroat Lake – great swimming for dogs that are so inclined and great views for the owners! Highway 20 is closed during the winter because of avalanches, so the best time to go there is May through October."
8. Grand Teton National Park
Grand Teton National Park is nestled right next to Yellowstone in Wyoming. Known for its namesake, the Grand Teton, the Teton Range is full of life! The park is a trout fisherman's dream. It's one of the few places you can catch a Snake River fine-spotted cutthroat trout. Like most National Parks, dogs are restricted to certain areas along roads in established campgrounds, and in parking areas. However, there are trails in the Gros Ventre Wilderness located within the Bridger-Teton National Forest. Check out the Gros Ventre Slide National Geological Site, Grizzly Lake Trail, or Cow Creek Trail!
"My favorite thing to do with my dogs is to hike in rugged and remote terrain where we can enjoy the wilderness without seeing a lot of other people."
- Ruth Nielsen at Mazamadog
9. Acadia National Park
Acadia National Park is smaller in land size than other national parks, but the trails make up for it! The park offers rocky coastlines, granite peaks, and over 45 miles of carriage roads to explore. Of the 120 miles of hiking trails, 100 miles are dog-friendly along with the 45 miles of carriage roads. A number of trails are off limits to pets, but some are not, like the Acadia Mountain Trail. It requires a bit of scrambling, so make sure your dog is up to the challenge. You can also camp with your dog on Isle au Haut, which has hiking trails galore!
"We love hiking to secluded places and enjoying the views, we look for trails that are less traveled, as we love the solitude and the beauty the desert has to offer."
- Kerri at Dusty Desert Dogs
10. Glacier National Park
In Glacier National Park, dogs are allowed in developed areas, frontcountry campgrounds, picnic areas, along roads, and in boats on lakes where motorized watercraft are permitted. There is one trail that is open to pets, the McDonald Creek Bike Path. It's about 2.5 miles long and it runs by Lake McDonald (and there's an ice cream shop, too!). They are not allowed on backcountry trails, along lake shores, or in any buildings. Check out Kootenai, Flathead, and Lewis and Clark National Forests for more dog-friendly options, specifically Hungry Horse Reservoir in Flathead.
Take it from a trailblazer: Alta and her dogs, Nalu, Pe'ahi, Leilani, & Honu, love to hike in Bend, Oregon. She says, "For those who are a bit more adventurous/athletic, the Three Sisters Wilderness in Bend is an amazing place to explore. Summit-ting South Sister is a must for any avid hiker. Honestly I can't say enough about Bend and the surrounding area. I have had so much fun camping/hiking/backpacking with the dogs and it feels like paradise coming from CA where the rules were so restrictive. I recently spent a weekend in the Opal Creek Wilderness with the dogs and was blown away by the beauty. The waters are crystal clear and emerald green, there are several falls along the trail, and in the summer amazing swimming holes."
We're so lucky to have a great group of experienced hikers and campers we call trailblazers! As you plan your next adventure, be sure to add one of these dog-friendly spots to your agenda!
4 Responses
Leave a comment