Recipe: Campfire Pizza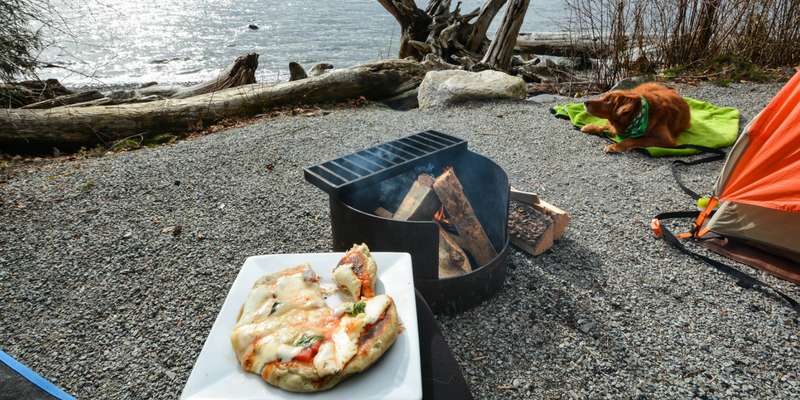 Recipe submitted by Veronica Bowman, Trailblazer 
This is a super simple way to make pizza by using a Lodge cast iron skillet. What's better than hot pizza and beer in the great outdoors with your dog by your side?
Prep time: 25 min
Cook time: 15 min 
Makes 2 10" pizzas
Ingredients:
2 1/2 cups all purpose flour
1 packet rapid rise yeast
2 teaspoons of salt
1 cup warm water
5 tablespoons olive oil
Your choice of toppings
Instructions:
 In mixing bowl add flour, yeast and salt
 Add the warm water and 2 tablespoons olive oil to dry ingredients
 Knead the dough
 Cover dough and let it rise for 20 minutes
 After dough has risen, turn it out onto a cutting board and divide the dough into two equal pieces
 Coat pre-heated cast iron skillet with 1 tablespoon of olive oil
 Place the Skillet on a grate over your campfire, or on your camp stove at a fairly high heat. Cook for 3-5 minutes, until bottom has firmed up and begins to turn golden brown.
Pull the skillet off the fire 
Flip uncooked side face down in the skillet. Add your toppings, cover the pizza with foil, and return the skillet to your campfire or stove. 
Cook the pizza for additional 5-8 minutes until the bottom is golden brown. Remove foil/lid once the cheese has melted.
"Making pizza dough from scratch is a bit of a process, if you want to save some time you can always buy pre-made pizza dough. Trader Joe's sells three flavors: Regular, Whole Wheat, and Garlic & Herb (my favorite)."
15 Responses
Leave a comment