Meet the Adventure Collection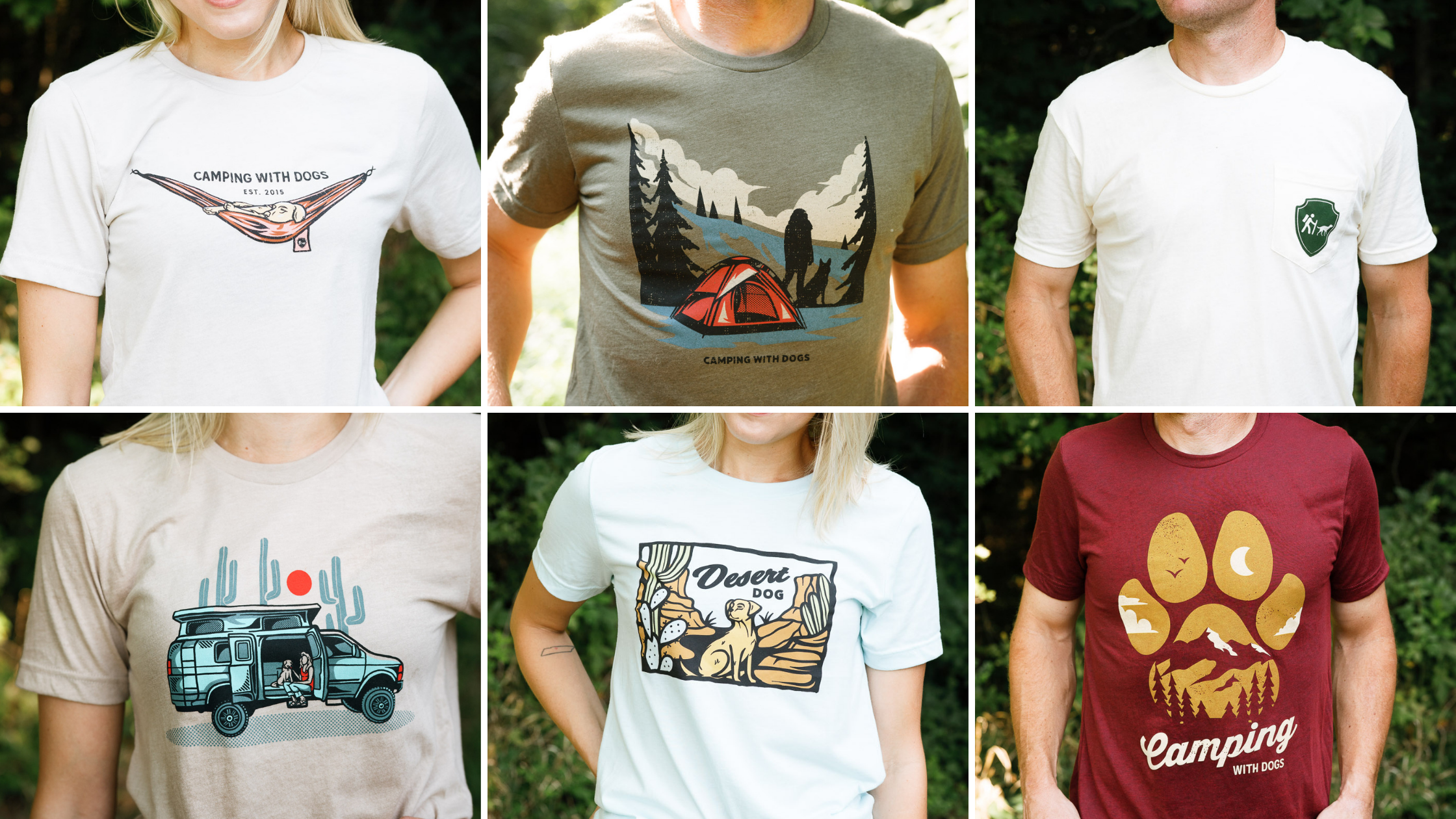 Camping With Dogs' Adventure Collection was created to inspire outdoorsy dog lovers to make every day an exciting part of your journey. No matter where life takes you, adventure awaits. From van life in the desert, to camping in the mountains, and everything in between, the outdoor lifestyle is made for you and your dog. 
This collection was created to inspire you to never stop searching for life's next adventure. We partnered with Park St. Studio in Arizona to create a collection that represents the many different members of the Camping With Dogs community. Learn more about the inspiration behind each of these designs.
Our dogs constantly remind us to slow down and enjoy the little things in life. That's why we created the Lazy Boy Tee! This super soft shirt reminds us that there is no better feeling than relaxing in a hammock after a long hike to the summit, especially when we get to enjoy it with our dog.
The Camping With Dogs team knows that one of the best things in life is setting up your OOO email and leaving town for a camping trip. With a design that pays tribute to our PNW community, this shirt was made with our happy place in mind.
A tee dedicated to all the people living our van life dreams! We can't imagine a better way to enjoy all of life's adventures than by exploring the world with your dog in a van. Whether you are already living this lifestyle or just starting to research van conversions, this tee will help keep the dream alive.
Life is all about the simple things. Sometimes you don't need anything more than your dog, a cold beer, and a comfy pocket tee for everyday adventures.
A special shout out to all of the desert dogs! Whether you are an Arizona native or you love traveling to see all the cacti on vacation, this shirt was made to keep you cool on those warm days in the sun.
The only thing you should be leaving behind after a day on the trails are some paw prints! Our extra soft Trail Tracks Tee reminds us of the importance of recreating responsibly and leaving no trace. 
Which Adventure Collection design is your favorite? Tell us in the comments and follow us on Instagram to stay updated on new designs coming soon!
7 Responses
Leave a comment