How to Hike With Your Dog: Training Tips For The Trail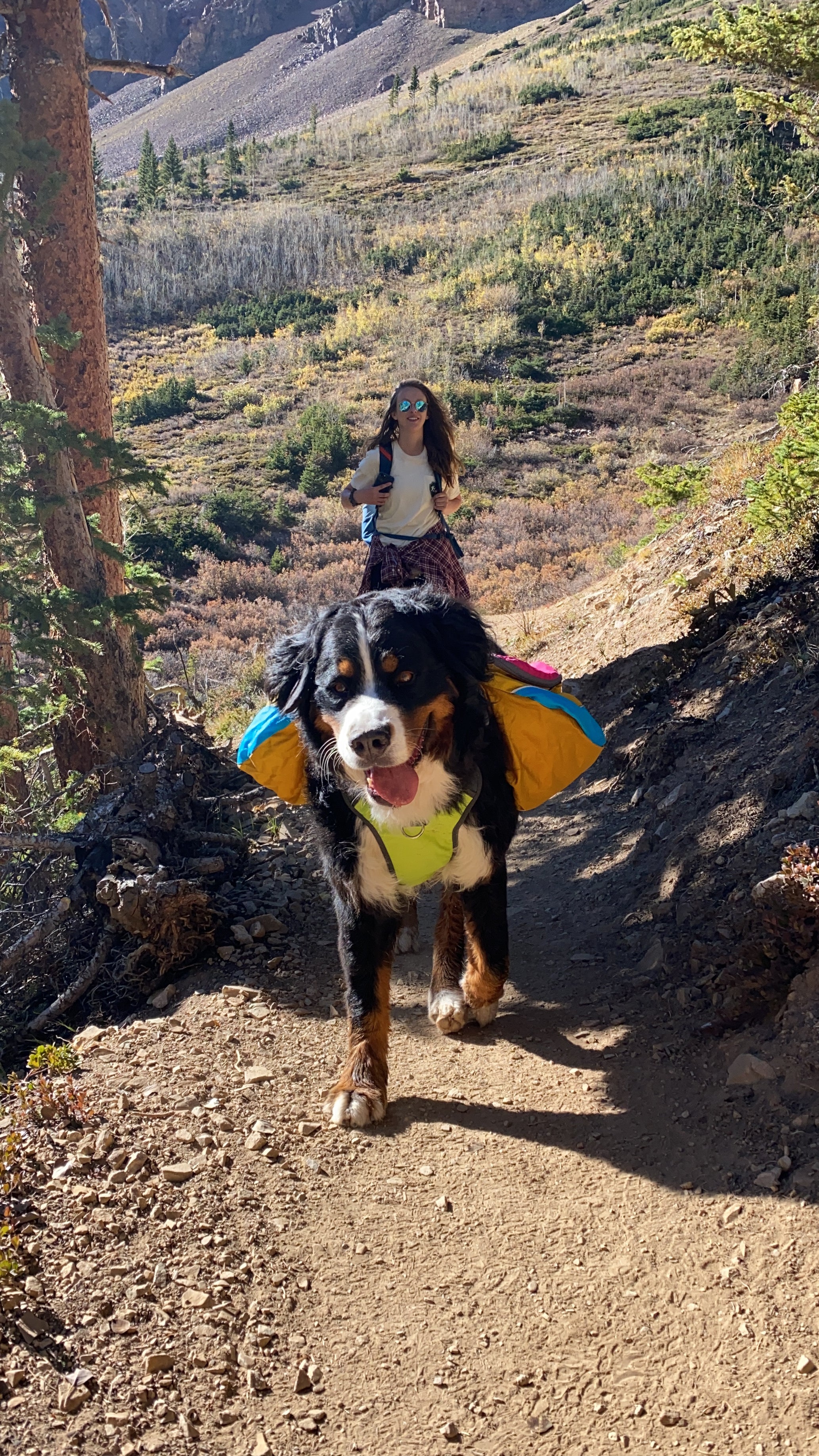 It is officially that time of year when we all start planning how to improve our lives and incorporate new activities or habits that will make us happier and healthier. One of life's simplest pleasures is enjoying the beautiful outdoors and making that even better, making and sharing this experience with our furry best friends. Hiking with your dog has several mental and physical benefits for you and your pup, but it is also fun and a great bonding experience. However, if you haven't hiked together before, it can be a daunting task. In honor of National Train Your Dog Month, we will share some dog hiking tips so you can safely head out on the trails for endless adventures this 2023! 
3 Most Important Things For Hiking With Your Dog
It is important to note that hiking with your dog differs from your usual walks around the neighborhood. Being in the great outdoors increases the opportunities for encounters that could jeopardize your and your pup's safety more than those in your local neighborhood. There are several things to remember when hiking with your dog in terms of hiking etiquette and staying safe on the trails. 
However, the three most important things your dog should be able to accomplish while hiking includes:
Exhibiting appropriate behavior around everyone on and around the trails

Adheres to basic verbal or hand signal commands like "sit", "stay", "come", "leave it", and "drop it" on a routine basis

Has impulse control and responds to your commands despite any sights, sounds, or smells that create distractions on the trail
Basic Dog Obedience for Hiking
Basic obedience is vital for taking your pup with you on the trails. Since the safety risks are heightened outdoors, a well-behaved dog is key to a successful hike. Here are four basic obedience cues your dog needs to have mastered before taking them out on a hike. 
(1) Sit
This might seem like a no-brainer as it is a basic behavior that most dogs know. However, the importance of this command cannot be understated, as it's the foundation of all safety behaviors. "Sit" can keep your dog from harm on the trails as it is used to redirect them from any people, other dogs, etc., that he could be reactive towards on the trails. It is also used to keep others trail goers safe, especially if your dog is a jumper.
(2) Stay
A strong stay cue is imperative to have mastered before you hit the trails. It keeps your dog safe by encouraging him to remain steady in one spot, even when faced with distractions. Stay is a commonly difficult behavior to master since it is hard for most dogs to hold one position despite the exciting things happening around them. We recommend splitting the behavior into three different parts during the initial training. 
First, work up the distance from your dog while giving the cue. 

Then increase the duration of time you want your dog to stay in that specific spot. 

And lastly, work up the number and value of the distractions around them. 
Doing this separately tends to be more successful, and working up to more challenging distractions is always best.
(3) Come
You can only keep your dog safe on the trails if you can always see them. That is why you should be confident that your dog will always come to you, no matter the environment. This cue must be failsafe because if your dog accidentally slips off his leash or manages to wander off, you'll need a well-trained recall to keep them safe. For training, it is recommended to start in a quiet environment with no distractions, like a room with just you two in your home. Then slowly change the environment and add more distractions. 
(4) Leave It
 Even with your best intentions and the most well-behaved dogs, there is always the potential for your dog to get into trouble on a hike. A safety cue like "leave it" can be lifesaving as there is a heightened possibility that your dog can ingest something that can make them very sick. Your dog must understand that "leave it" means they can't have something and that this cue applies to anything they may see on the trail. 
(5) Drop It
Another crucial safety cue that your dog should have mastered is "drop it." Again, you don't want your dog to eat something that could make them sick, and your dog is most likely to see or smell these hazards before you do. So be sure that your dog correctly responds to your cue "drop it" anytime they have put something in your mouth they shouldn't before you get on the trails. We recommend training this cue with a free-choice cue like "take it." This can help teach your dog to wait for permission before putting items in its mouth. 
Trail-Specific Skills
The obedience cues we mentioned are used to help keep your dog under control and safe during your hike together. 
Loose Leash Walking
Even if your dog responds well to verbal control cues, the importance of loose-leash walking must be recognized. Loose leash walking means your dog walks by your side, keeps pace with you, and does not pull on the leash at any point during your walk. This is an essential skill, as many new and exciting things can happen around your dog on the trails. It is essential that your dog can walk politely on the leash and does not startle other dogs, animals, and humans enjoying the trail. Some characteristics of loose leash walking include:
The leash is in a "J" shape - (meaning there is no leash tension)

Your dog happily walks by your side

Your dog restrains from sniffing or constantly marking, except when given a command to do so

Your dog is not reactive to other dogs, noises, and people 
Loose Leash Walking Tips
Remember that the outdoors is full of rewards for the dogs, like new smells and squirrels. This means that to ignore them and walk by your side, you need to be more rewarding. We recommend using treats or whatever your dog holds to a high value to reinforce your dog for not holding tension on the leash. 
Pacing Cues
Once your dog has mastered loose leash walking, it's time to bring in pacing cues. There are added obstacles on the trails that your dog doesn't encounter during your daily walks around the neighborhood. Therefore, it is helpful to teach your dog pacing cues. You should have a signal like "let's go" to tell your dog to speed up and another like "easy" to tell your dog to slow down. 
Pacing Cue Training Tips
Teach these cues during your daily walks by giving one and adjusting your speed accordingly. 

Give the cue immediately before you change your speed, and then reward them when they successfully adjust their pace to keep up with you. 
Focus Work
The last crucial trail-specific skill to work on is focus work with your dog. Focus work is to help your dog handle any distractions that may appear during your hike by being able to control where your dog is looking by commanding them to look at you. Two examples of cues used for focus work are "watch me," which tells your dog to make eye contact with you, and "touch," which is when your dog places his nose in the palm of your hand. This is all about teaching your dog that attending to you is more valuable than paying attention to something that could be potentially unsafe or cause a reaction in your dog. 
Focus Work Training Tips
Like loose leash walking, it is best to build up the number and value of the distractions during your initial focus work training. 

Since dogs tend to be easily distracted, you will want to train this command in a variety of situations and environments before you confidently hit the trails.
Other Helpful Info 
It is vital to research the trail you and your dog plan on hiking before you arrive so you are aware of all of their rules and regulations. Following the trail's guidelines is the best way to ensure a successful hike!

Most trails require your dog to be on a leash at all times, and even if the trail allows your dog to be off-leash, it is always best to carry one. We love

Alpha Pak's Leashes

as they have an array of options so we can confidently find the perfect one to accompany you and your dog on the trail! 
For more helpful dog hiking tips and information, check out the rest of our blog here. 
3 Responses
Leave a comment