@goldentrailz's My Dog Story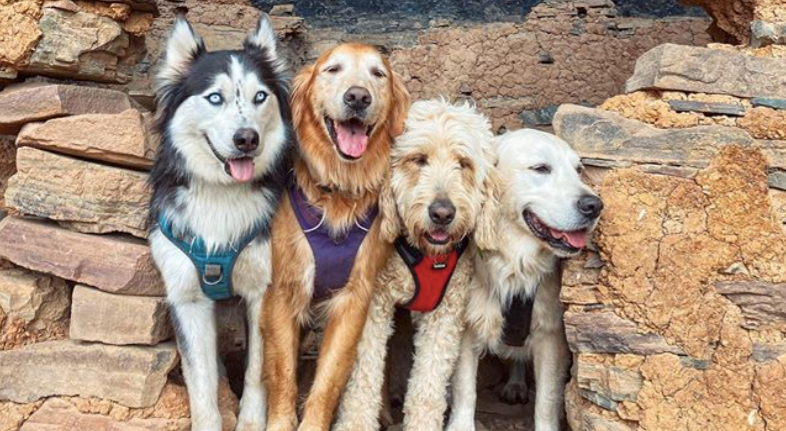 Author: Trailblazer @goldentrailz
Every dog has a story, and we want to share it.
#MyDogStory - @goldentrailz
The day that we helped Kodi pass and relieved him of his pain, I felt my heart shatter into a million pieces. Kodi had an incurable genetic disease that we tried to fix but finally lost the battle before he was not yet 5. Little did we know, that at that time, there was this little guy, not even a year old, fending for himself on the streets of NM.
After a painful 4 months, a friend who worked for a rescue showed me an adoptable husky. Though this wasn't Obi, I felt my heart open a bit and my wife and I started talking. We had been doing 4 so why not save another dog that could be saved?

Statistically, huskies are a hard breed and account for highest number of returned breeds at a shelter. The impound rate has risen from 1.7% in 2013 to almost 8 % in 2019. They require so much work, exercise and attention and many people don't understand what they are taking on.
In November, the rescue sent me a picture of Obi in a shelter in NM, it gave me goosebumps. The shelter currently had 13 huskies there but were only bringing back 3. She asked if his picture spoke to me and I said yes, Obi was on the E list and scheduled for euthanasia that week. It took 3 weeks before we got him, and I was nervous. What if the dogs fought, what if he peed, what if he ran. I knew there was only one way to know. When my friend told me "he just walked across the vets office on his hind legs" I laughed and knew we were in for a treat.
And you all know how this story ends. Obi is just an amazing dog in every way. And while Kodi taught me to be ok with grief and it's many levels, twists and turns, Obi has showed me how to smile and laugh again and to get back to enjoying life and I have showed him the same thing. He has also showed me that I have no control over this life, as hard as that is and that things definitely happen the way they are supposed to. Kodi made way for Obi to be here, he created a space, he made me capable of loving that much, he helped me be patient and to be willing to take on the challenge of the unknown. In a way I think he knew all a long how it would be.
Share your #MyDogStory by using the hashtag and tagging @campingwithdogs.
15 Responses
Leave a comment