6 Must-Have Items for Hiking With Your Dogs This Winter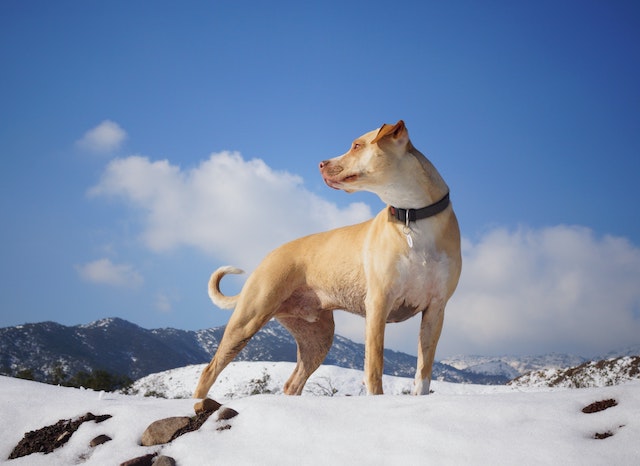 Whether you are a fan of the winter or not, colder weather is approaching. But just because we have to say goodbye to warmer weather for a few months doesn't mean we have to take a hiatus from our outdoor adventuring too! So to make sure you can keep your camping and hiking activities alive this winter season, we have rounded up our favorite items to keep you and your pups warm while enjoying the outdoors!
1. Compressible Dog Sleeping Bag
A dog sleeping bag is a must for keeping your pup warm during those cold winter nights. When it comes to shopping for the right sleeping bag, here are a few features you will want to make sure to look for: 
Made from soft and well-insulated material
Waterproof
Durable
Compressible
If you are looking for a dog sleeping bag that checks all those boxes, we love Alpha Pak's Waterproof Compressible Sleeping Mat!
2. Microfiber Towels
Those winter trails tend to have your pups slightly damper than usual. So we love to pack a microfiber towel with us because they are super absorbent, durable, and easily packable. In addition, microfiber towels won't tear easily and are machine washable and reusable. These are great for keeping your pup warm and cozy and ensuring your campsite or car stays dry too!
3. Dog Backpack
If you're backpacking, weight can be an issue, especially if you're planning outdoor adventuring in colder weather, which typically means packing some extra necessities for your trips. A dog backpack is a great option for lightening your load by letting your pup carry their own bag!

We love that Alpha Pak's Dog Backpack takes some of your load off. It is sturdy, comfortable, and can fit your dog's essentials. This dog backpack is an excellent addition to making your winter activities more comfortable and enjoyable.
4. Dog Boots
 Even if your dog seems un-bothered by the harsher weather, keeping their paws protected from the snow, ice, salt, or ice melt chemicals that fall along the winter trails is important. So when it comes to shopping for the proper winter boots for your pup, here are a few features you will want to make sure to look for:
Sole:

The sole of the dog boot should be made from textured material to aid traction. It should also be flexible to conform to your dog's natural paw shape and doesn't inhibit any natural paw movement. 

Material:

The dog boot should be made from a waterproof or water-resistant material. We also recommend noting if the fabric is breathable, as this will provide more comfort for your pup.

Straps: It is best to get a dog boot with velcro straps, that way, you can easily adjust the shoes to the most comfortable fit for your pup.
5. Waterproof Dog Bowl
Even if your trails are filled with fresh snow, you can't forget to keep your pup hydrated during outdoor activities. Therefore, it is best to look for one that is lightweight and packable so it is convenient for easy travel and storage. In addition, it is important that the dog bowl is made of waterproof material, so your pup's favorite food is protected from damp conditions.
We recommend this Collapsible Dog Bowl from Alpha Pak!
6. Dog Parka
An outdoor adventure with your dog in cold, wet conditions can be chilly, even for pups with thick fur coats. An insulated, waterproof dog park can give your pup an extra layer to keep them warm and cozy during most winter days. When it comes to shopping for the right winter jacket for your dog, here are a few features you will want to make sure to look for:
Material:

Many dog parkas are not made from a material that is both insulated and waterproof. So depending on the outdoor activities you have planned, make sure the coat is suited for the adventures you and your pup have planned. It is also important to ensure the jacket is machine washable, so you can rinse off any slush or salt your dog may roll around in!

Leash and Harness Accommodations:

We recommend you look for a jacket that either includes an attached leash or accommodates your leash and harness attachments under or through the jacket. 

Reflective Component: Winter not only brings along colder weather but also fewer hours of sunlight. A reflective jacket is excellent for enhancing the visibility of your pup during the night.
9 Responses
Leave a comment